Descriptions
Polycystic ovary syndrome (PCOS) is a hormonal disorder affecting 1 in every 10 women of reproductive age. Due to complex hormone imbalance and metabolic disfunction, women with PCOS may have prolonged or infrequent menstrual periods or excess male hormone. They may also develop follicles in ovaries that fail to release eggs regularly, making it difficult to conceive naturally.
This condition requires a holistic approach that identifies the root cause and personalised individual treatment plans that include lifestyle changes.
For Who
Women suffering from infrequent periods or a long-cycled period
Women facing difficulty in getting pregnant
Women suffering from obesity and having difficulty conceiving
Women with suspected polycystic ovary syndrome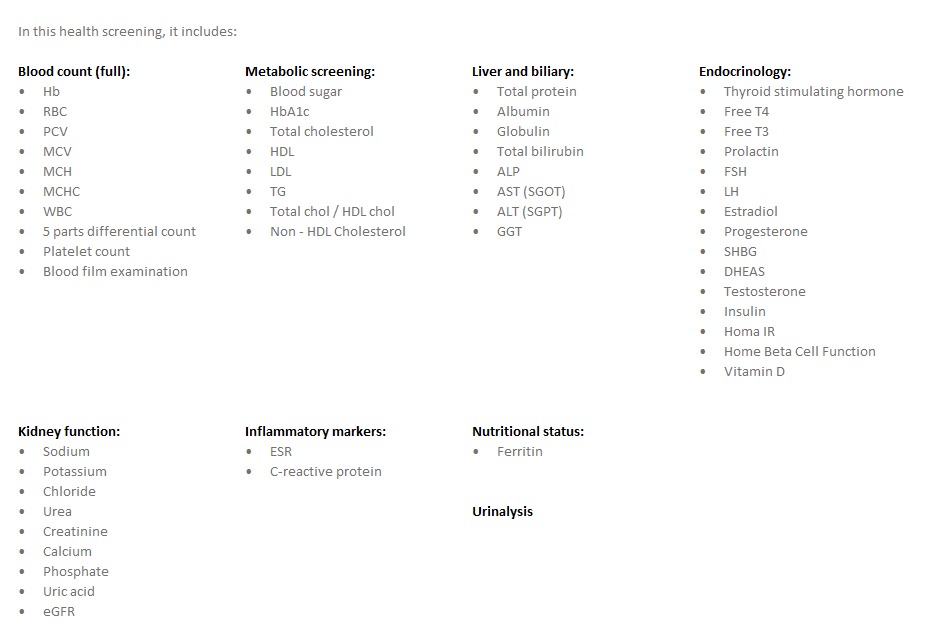 Purchase Includes
80 tests profiling your

Blood count
Blood sugar
Kidney function
Liver function
Full cholesterol
Metabolic markers
15 Specialised hormones

Complimentary 45-minutes virtual consultation by our functional medicine doctor (worth RM 350)
A printable lab reports
A printable summary of your conditions & personalised treatment plan
Why you should not miss this test?
You can identify the root of the problem and obtain a facilitated personalised treatment.
It's your journey together with us towards your flourishing, healthy pregnancy and long-term wellness.