Descriptions
Metabolism is a vital body reaction that gives our body energy. Our body will metabolise the food and drinks we take to fuel our movements, growth, reproduction and development. Our metabolism rate depends on age, sex, race, exercise, and diet. However, when our hormones level is too high or too low, the metabolism is disrupted.
This may lead to metabolic syndrome, a cluster of conditions that happen concurrently, increasing our risk of type 2 diabetes, stroke, and heart disease. The disorders include high blood sugar, weight gain or abnormal weight loss, high blood pressure and increased waist circumference.
Therefore, taking this test will help you understand any underlying issues with your metabolism before too late.
For Who
Those with high blood sugar, diabetes or pre-diabetes
Those with abnormal weight gain or loss
Those who have cardiovascular diseases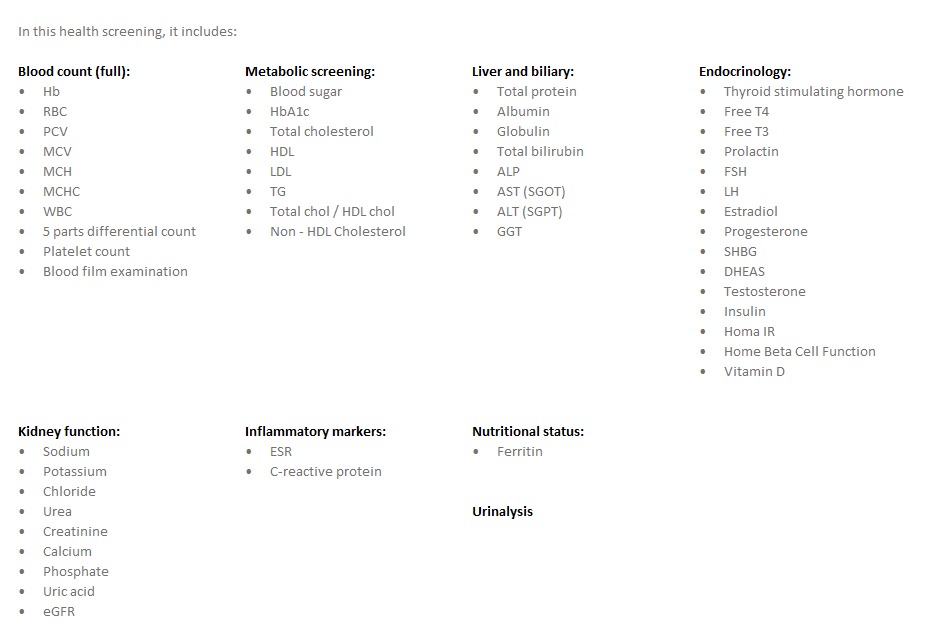 Purchase Includes
80 tests profiling your

Blood count
Blood sugar
Kidney function
Liver function
Full cholesterol
Metabolic markers
15 Specialised hormones

Complimentary 45-minutes virtual consultation by our functional medicine doctor (worth RM 350)
A printable lab reports
A printable summary of your conditions & personalised treatment plan
Why you should not miss this test?
You can potentially reverse your diabetic situation. Though not a cure, it helps control your blood sugar and reduce medicine or high reliance on medications.
You can identify the root of the problem and obtain a facilitated personalised treatment.
It's your journey together with us in reversing your poor health condition to heal your body.